What is FARET Tachikawa Art?
FARET Tachikawa, it is a town of 5.9 hectares including 11 buildings such as hotel, department store, cinema complex, library and office buildings, that was born on October 13, 1994 at the site of a former U.S. military base near the north exit of Tachikawa Station. The name of "FARET" is derived from the Italian word "fare" meaning "create", added the letter "T" for Tachikawa to it. It received the City Planning Institute of Japan's Planning and Design Award in 1994, and has been highly praised from the viewpoint of urban planning. Now many people are visiting both from home and abroad to "FARET Tachikawa", and it is one of leading examples of art-based city planning.
The art director of FARET Tachikawa, Fram Kitagawa, envisioned this area as a forest, and installed works of art -like spirits living in it – based on following 3 concepts ; "A Town Reflecting the World", "Function into Fiction (Art)!" and "A Town of Wonder and Discovery". 109 works by 92 artists from 36 countries "FARET Tachikawa Art", have practical city functions, such as bollards, benches, streetlights, ventilation ports, and shows the contemporary world of the end of the 20th century.
"FARET Club", which is a citizen volunteer group established in 1997, offer guided tour, and organize art cleaning program and workshop" by the artists of "Faret Tachikawa Art". They have guided "FARET Tachikawa Art" to more than 20,000 visitors since the group was established.
"FARET Tachikawa Art" is presented in art textbooks as a major example of public art. And since 2008, the appreciation of "FARET Tachikawa Art" has been included in the curriculum for elementary schools in Tachikawa city, serving as an "alive" instructional material.

---
20 Years of FARET Tachikawa
FARET Tachikawa Art Director, Furamu Kitagawa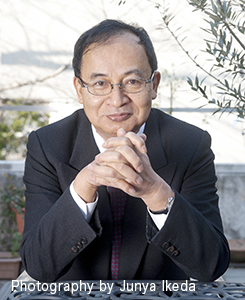 Twenty years have passed since FARET Tachikawa was launched.
This redevelopment project was a full-scale public art initiative, and the enthusiasm and support that citizens, businesses, and government have all brought to this project is still a miracle to me. It is now the model for "regional art-based revitalization" movements in locations all around Japan. It is wonderful that the project is held in such high regard and seen as an example to follow by urban planners in cities worldwide as well as in Japan.
The idea for this art project was suggested in 1992 by the Housing and Urban Development Corporation. The Berlin Wall had fallen in 1989, the Soviet Union had collapsed in 2001, and the Internet had begun to spread all over the world. Globalization, global homogeneity, and an obsession with efficiency were spreading everywhere. (We still believed at that time that the world would stabilize after the Cold War.)
At that time, the concept behind the "FARET Tachikawa Art Project" was to take the truth that underlies all art—that the world's peoples are different and diversity is both beautiful and terrible—and implant it deep in the heart of the city. That is why the art is so varied, with 109 pieces by 92 artists from 36 countries, reflecting the world's diversity. Another important point is that, instead of enshrining this art on pedestals, we transformed these works into buffers, ventilation ports, benches, and passages, turning them into functioning components of the urban landscape. We also arranged them so that they can all be enjoyed during a walk around a 5.9-hectare area in a city now filled with surprising discoveries.
As cities stretch their limits, the environments in the regions that surround them suffer and both homogeneity and standardization become rampant, art is more important than ever.
Art brings people and place together. It connects very different people. Tachikawa has become a living, breathing art museum of twentieth-century and contemporary art, a rare treasure not only for Tachikawa residents but for people everywhere.
Oct.13.2014
*Mr. Fram Kitagawa was selected as Person of Cultural Merits (a person who have made significant contribution to culture) in 2018.