The 7th "Faret Tachikawa Art Photo Contest" entries!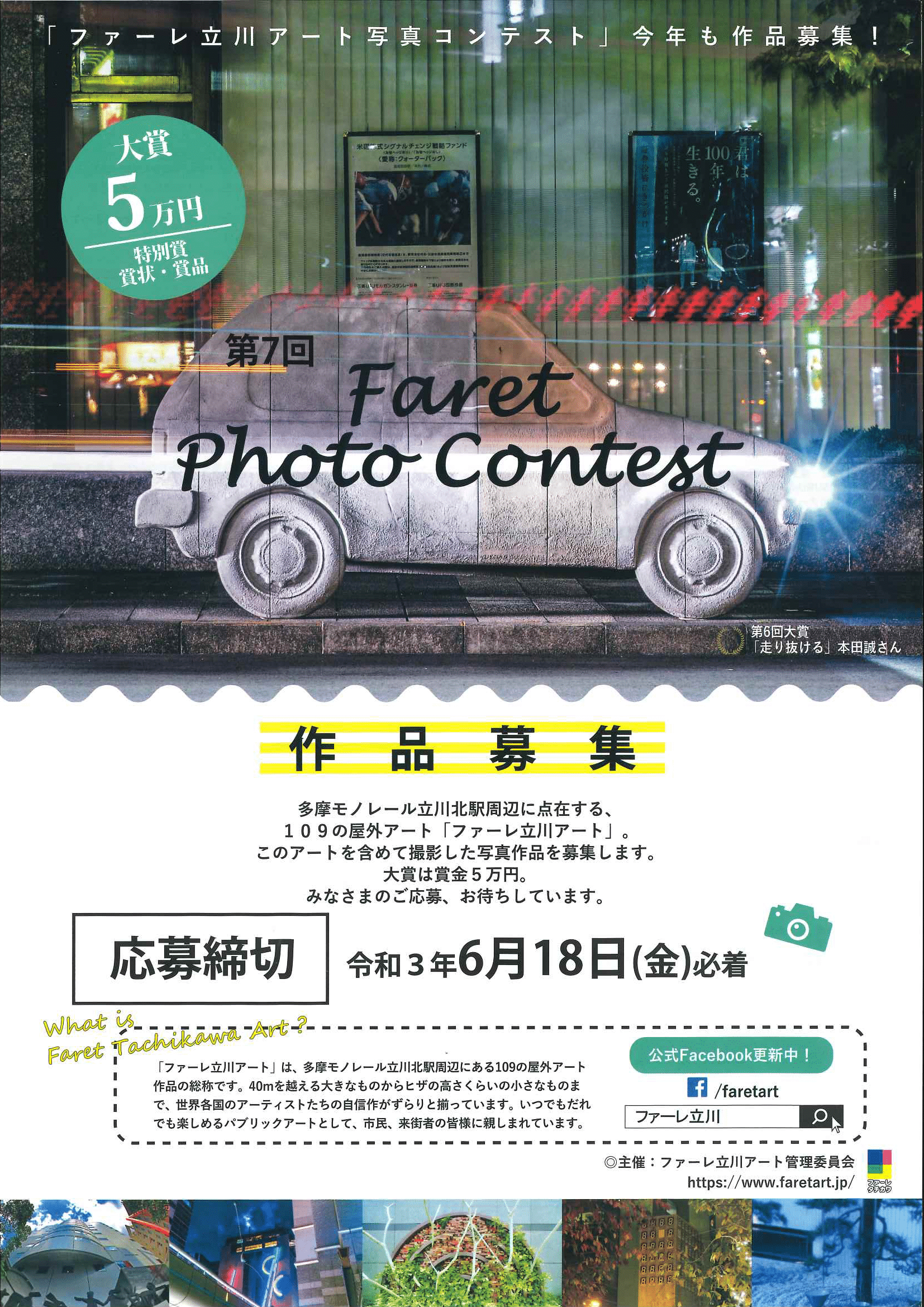 The Faret Tachikawa Art Photo Contest will be held again this year.
Anyone can apply for a film shot including "Faret Tachikawa Art."
There will also be a photo exhibition of the works submitted and a calendar production using the winning works.
Please take a picture of your favorite work, the moment you want to tell everyone, and apply for a wonderful picture full of love for "Faret Tachikawa Art"!
■Contents of the entry
Works shot including "Faret Tachikawa Art"
*The works other than "Faret Tachikawa Art" are invalid, so please check them on the website or MAP.
■application qualification
Anyone can apply.
*Minors are requested to apply with the consent of their parents.
■application deadline
Must arrive on Friday, June 18, 2021
■Number of entries
Up to 3 per person
■Terms and conditions of the entry
①a printed photograph (Color, monochrome available)
*Digital or film shooting is not required.
*Applications for digital data and positive/negative films are not accepted.
*Print on photo paper only when printing on an inkjet printer.
②Size: 4 pieces, wide 4 pieces, A4
③Filming period: Saturday, June 20, 2020 – Friday, June 11, 2021
④It is an original work taken by the applicant himself/herself, unpublished and copyrighted by the applicant.
⑤You cannot apply for the following works.
*If you apply, you will not be eligible for invalidation or screening. Please be careful.
1.Those who have entered or are planning to enter other contests or have won prizes in the past.
2.Pictures taken in places where entry and photography are prohibited, or in violation of laws.
3.A part of an image is erased, added, or combined using image processing software or the like.
4.It is judged to be against public order and morals.
5.Items deemed to infringe property and privacy.
6.Items that are for profit or that are related to politics, religion, etc.
■Award
Grand Prize … Certificate/Prize 50,000 yen 1 person
Mayor's Prize … Certificate of commendation, one product
Citizen Award … Certificate of commendation, some products
Honorable mention … Certificate of award and a few products
■Reviews, announcement of results, photo exhibitions, and awards
①Items shot digitally and films are judged without distinction.
②First round of judging: Judges selected by the organizers determine winning works.
[Announcement]
Late July 2021 (planned)
③Photo exhibition and popularity vote: The exhibition of the work and popularity vote of the winning work by the general public.
[Photo exhibition (all works), popularity vote (winning works)]
Saturday, July 31, 2021 – Thursday, August 5, 2021
Tachikawa Women's Center Aimu
【 Photo exhibition (winning works) ・ Popularity vote (from 13 winning works) 】
Saturday, August 7, 2021 – Wednesday, August 11, 2021
Tachikawa City Hall Multipurpose Plaza
④ Final Judges: The winners are determined by the results of the popularity vote and judges selected by the organizers.
[Announcement] Early September (planned)
*Winners will be notified directly and the winning works will be announced on the sponsor's website, etc.
⑤Award Ceremony: The award ceremony will be held in mid-October (planned).
■How to apply
Please print out the application guidelines (download from the bottom of the page), fill out the required items and check the applicable confirmation items on the application form at the bottom of the page, firmly attach the adhesive tape to the back of the application (one sheet per application), and send it by courier or by mail.
[Delivery address of the application]
Tamashin RISURU Hall (Tachikawa City Civic Hall) 2nd Floor, 3 -3 -20 Nishiki-cho, Tachikawa City, Tokyo 190 – 0022
Faret Tachikawa Art Administration Committee Secretariat (Tachikawa City Regional Culture Division)
Person in charge of the 7th Faret Tachikawa Art Photo Contest
Please download the application guidelines here for details such as precautions for application.
Inquiries:
Faret Tachikawa Art Administration Committee Secretariat (Tachikawa City Regional Culture Division)
042-523-2111 Ext. 4501 (Weekdays 9 o'clock to 17 o'clock)