Faret Tachikawa Art Museum Day 2021 Autumn
With 109 pieces of public art by 92 artists from 36 countries around the world, the "Faret Tachikawa" block at the north exit of Tachikawa Station will be used as an art museum and various programs will be developed. Please visit Faret Tachikawa Art, Tachikawa's world-renowned public art town.
*The event may change due to the response to the novel coronavirus infection.
The latest information will be posted on our website and Facebook, so please check it.
■Talk Event "Faret Tachikawa Art School vol.6"
Kazunari Kitagawa, who designed the logo of Faret Tachikawa Art, and a wide range of experts will participate in this workshop. Our guest is UJI Yasushi, the curator of the Tamashin Museum, which opened last year in the Green Springs area across from Faret Tachikawa. I would like to ask about the history of the museum and its future activities.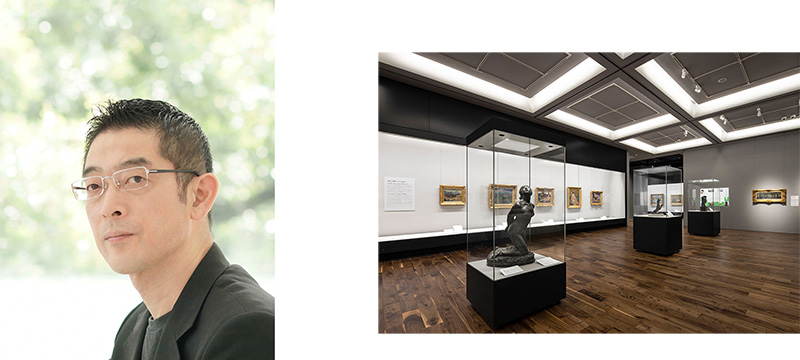 Date:October 10(Sun) 14: 00 ~ 15: 30
Venue:Tamashin Business Support Center (Win Center)
(3 -4 Midorimachi, Tachikawa, Tama Shinkin Bank, 3rd floor)
Capacity:20people (in order of application in advance)
Admission:Free
Application:By Thursday, October 7 [required], write your name and phone number and send it by mail, fax or e-mail to the office of the Faret Tachikawa Art Administration Committee.
■art tour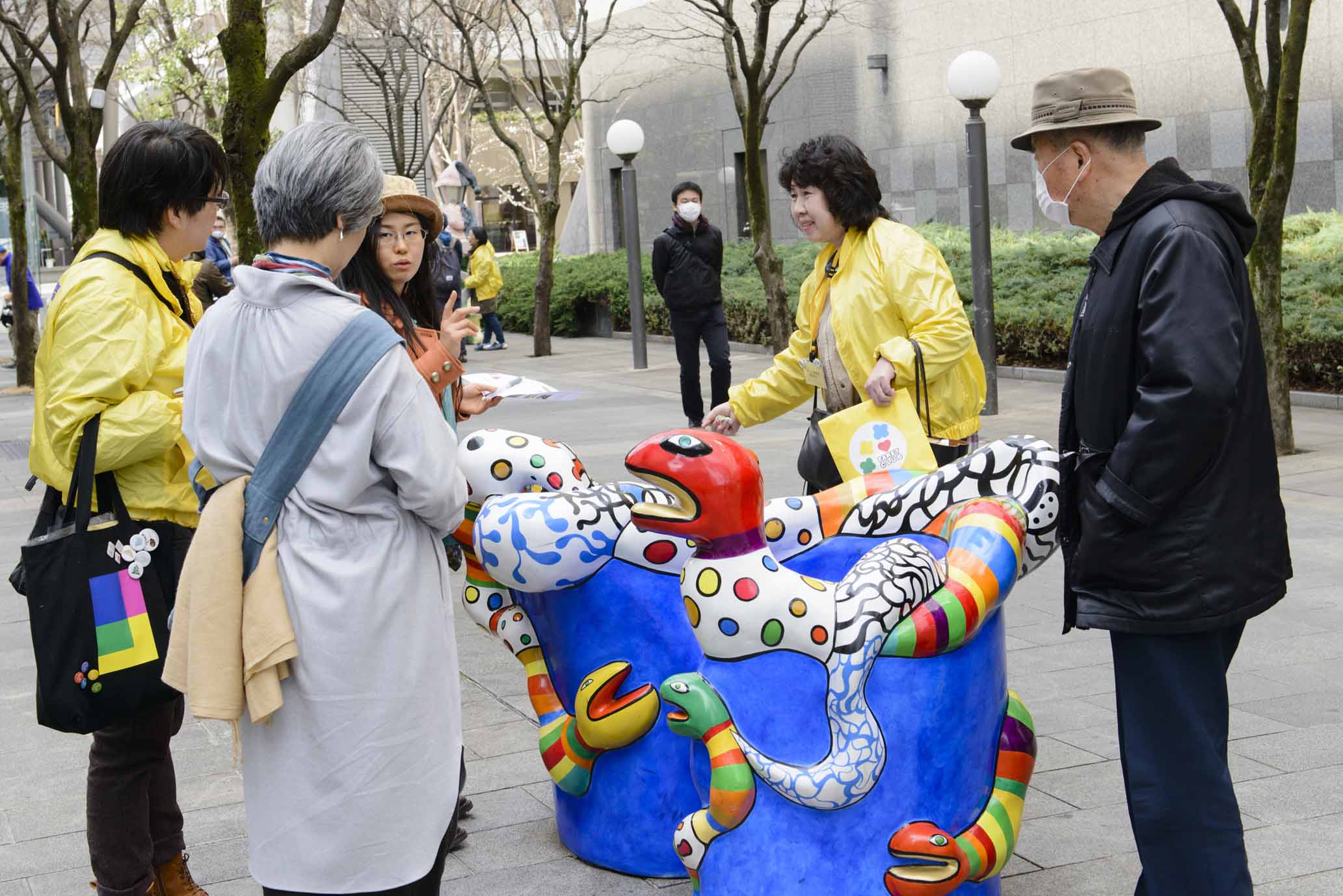 This is an art guided tour where the "Fare Club", a volunteer group that is familiar with Faret Tachikawa Art, introduces their works. You can listen to episodes of various works and artists in Japanese and English. On Wednesday, October 13, Faret Tachikawa's 27th birthday, a special 3-hour tour featuring 109 works will be held.
*Rain or shine
〇 Select tour (advance application system, about 40 minutes, capacity available)
Date:October 10 (Sun)
① 11: 00 ~ (Japanese only) * The capacity has been reached.
② From 13: 00 (Select Japanese or English)* There is a vacancy.
Gathering place:Tachikawa Shimaya S.C. North side red flowerpot area
Admission:Free
〇Opening commemorative tour (pre-application system, about 3 hours, capacity 20 people) * The capacity has been reached.
Date:Wednesday, October 13 13: 30 ~
Gathering place:Tachikawa Shimaya S.C. North side red flowerpot area
Admission:Free
Application:By Thursday, October 7 [required], write "Faret Tachikawa Art Tour 'Select Tour' or 'Open Commemorative Tour' application", name, phone number, preferred date and time (1) or (2) (in Japanese and English) for the select tour and send it by mail, fax or e-mail to the office ofFaret Tachikawa Art Management Committee.
■Exhibition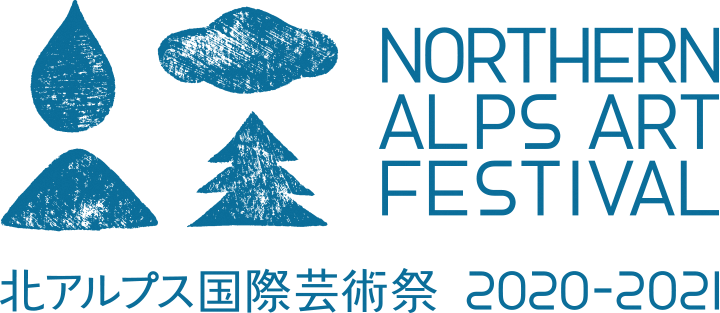 ① Planned exhibition: Information about the 30 year anniversary of the sister-city relationship between Tachikawa City and Omachi City, and the Northern Alps International Art Festival
This year marks 30 years since Tachikawa and Omachi in Nagano Prefecture became sister cities in 1991.
In addition to the history of the festival to date, this year's Kita-Alps International Art Festival 2020 -2021 (from Saturday, October 2 to Sunday, November 21) is being held in Omachi City.
②Photo Exhibition: Winners in the 7th Faret Tachikawa Art Photo Contest
Of the 144 entries, 13 were selected for the Grand Prize, the Mayor's Prize, and the Citizen's Prize, based on a popularity vote and judging by the Faret Tachikawa Art Committee.
Date:October 5 (Tue) ~ 10 (Sun) 9: 00 ~ 19: 00 (Last day is until 16: 00)
Venue:Ame 1F Gallery, Women's General Center (2 -36 -2 Akebono-cho, Tachikawa)
Admission:Free
■art market
Craft art and goods markets have opened around Sunsun Road.
Date:October 9 (Sat), 10 (Sun) 11: 00 ~ 16: 00 * The event will be cancelled if it rains.
Venue:Sun Sun Road
■Collaboration Sweets
For a limited time only, hotels and cafes in the vicinity of Faret Tachikawa will sell collaborative menus inspired by Faret Tachikawa Art.
○Museum Art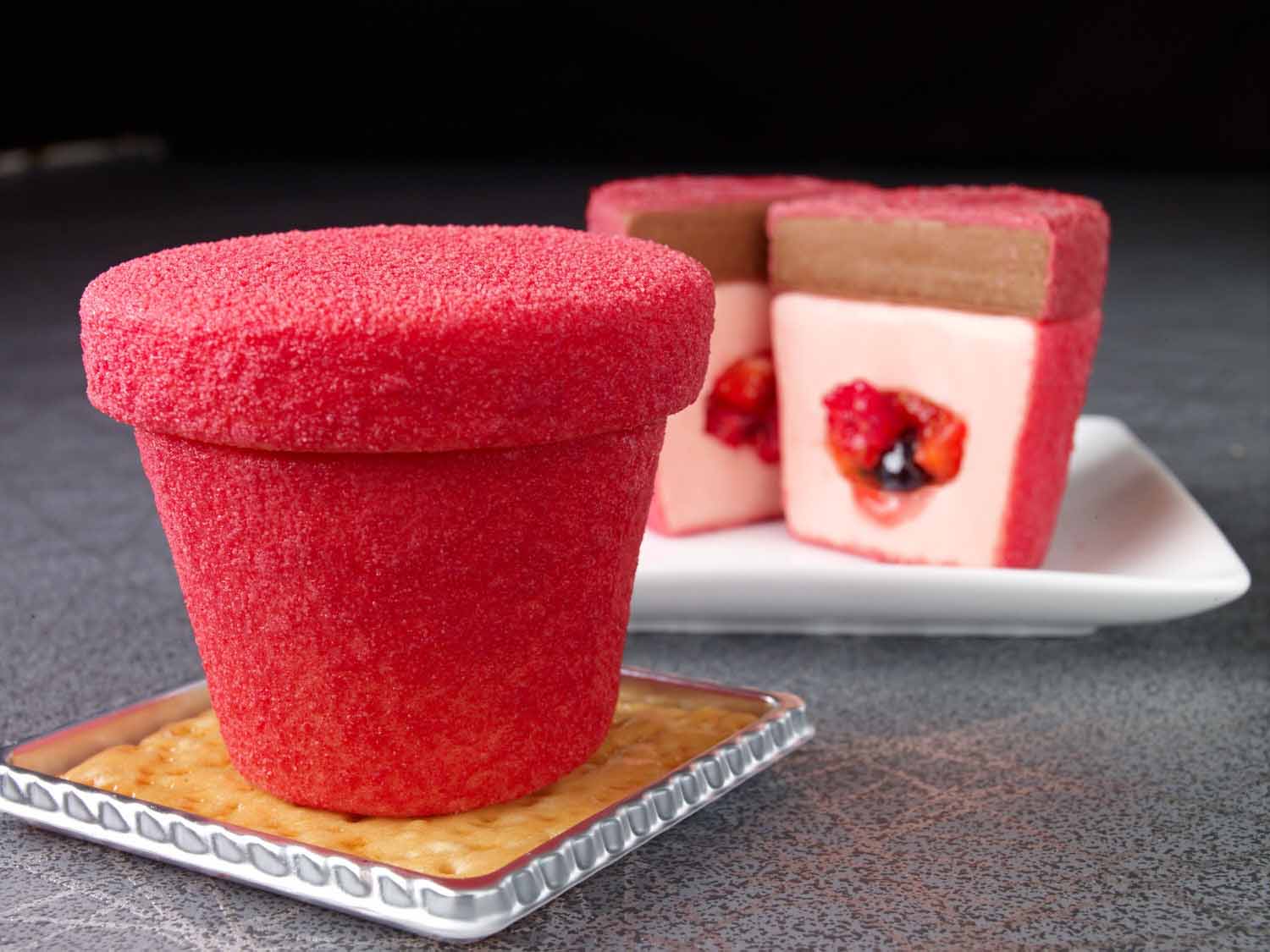 Palace Hotel Tachikawa (Akebono-cho 2 -40 -15)
"Museum Art" is a cake with a motif of Tachikawa Faré art.
It will be sold at the Lounge Salondu Cafe on the first floor of the Palace Hotel Tachikawa.
Price:¥520 each (tax included)
Sales period:10/4 (Mon) ~ 17 (Sun)


---
○faret chocolate pie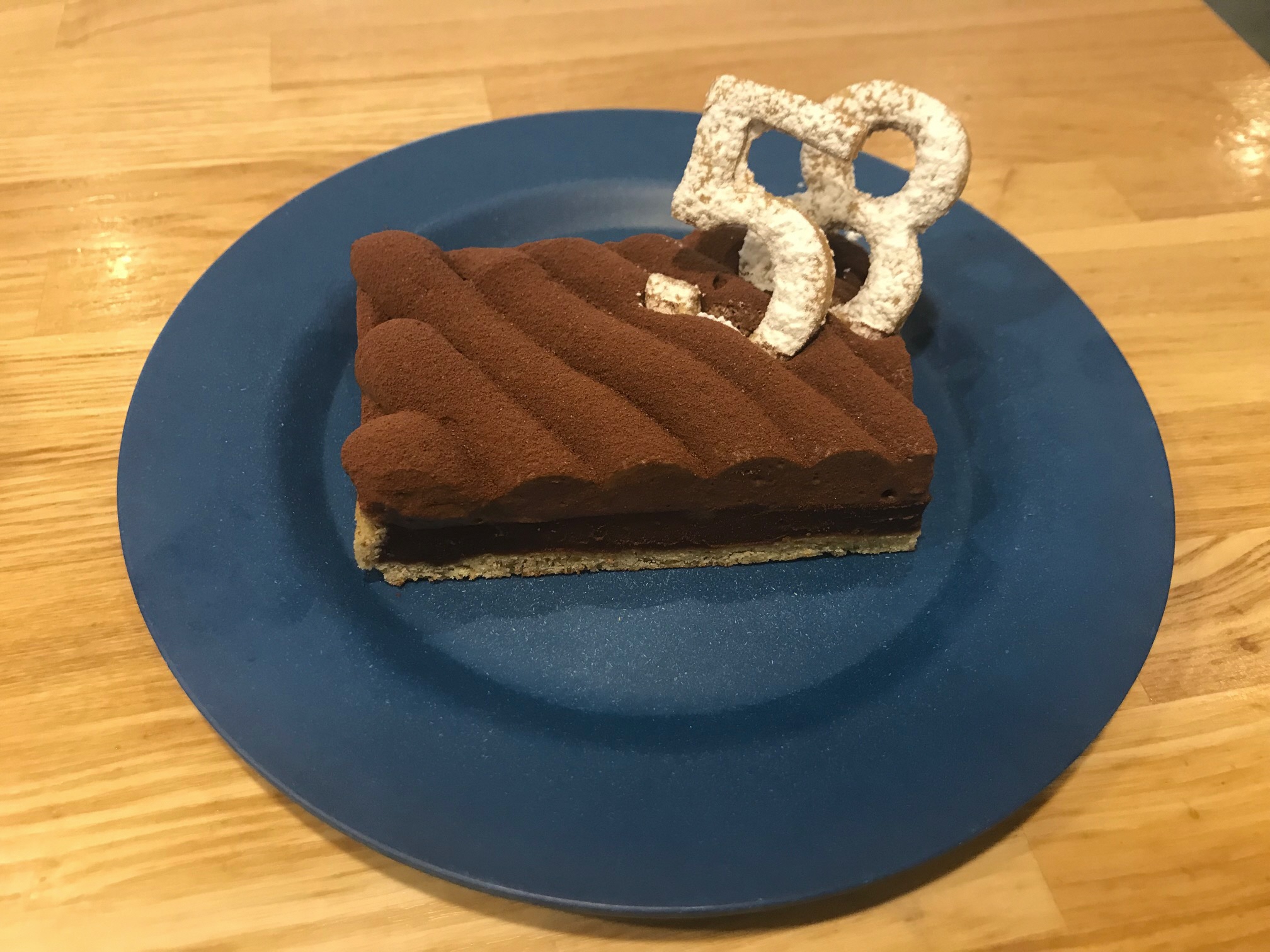 Adamsuo Sam Pie (Midori-cho 4 -5 Kotobukiya Building 2nd Floor)
The number on the chocolate pie in pie crust comes from Jonathan Borovsky's "The Man With a Briefcase."
Price:¥580 (tax included)
Sales period: 10/4 (Monday) ~ 17 (Sunday)


■visitor present
The first 100 winners of the 7th Faret Tachikawa Art Photo Contest will receive an original calendar for 2022. In addition, original goods will be presented at the headquarters booth to those who download and present the application "Faret Tachikawa Art Navi " to their smartphones, etc., and those who cooperate with the donation for preserving and utilizing Faret Tachikawa Art.
*Measures against novel coronavirus infection and requests to visitors
On the day of your visit, please take your temperature and understand your health condition.
Please refrain from visiting if you have fever, cough, cold symptoms (Fever, cough, sneezing, sore throat, etc.), malaise, or other health concerns.
Please cooperate in wearing a mask, cough etiquette, hand washing and hand sanitizing. (If you don't wear a mask, we may refuse your entry.)
■Inquiry
Faret Tachikawa Art Administration Committee Secretariat(Tachikawa City Department of Industry, Culture and Sports, Regional Culture Section)
Tamashin RISURU Hall (Tachikawa City civic hall) 2nd floor, 3 -3 -20 Nishiki-cho, Tachikawa 190 – 0022
TEL:042-523-2111, extension4501
FAX:042-525-6581
e-mail:chiikibunka-t@city.tachikawa.lg.jp
Homepage:https://www.faretart.jp/
Facebook  :https://www.facebook.com/faretart/
Twitter@faretart : https://twitter.com/faretart/
Instagram : https://instagram.com/farettachikawaart/