Report on the 7th Photo Contest Award Ceremony
[Fare Tachikawa Art Museum Day 2021 Autumn]
The awards ceremony for the 7th Faret Tachikawa Art Photo Contest was held on Sunday, October 10.
10 of the 13 winners participated, including Mr. Kawaguchi, Chair of the Faret Tachikawa Art Management Committee,Mayor Shimizu of Tachikawa City presented a certificate and prizes.
Ladies and gentlemen, congratulations.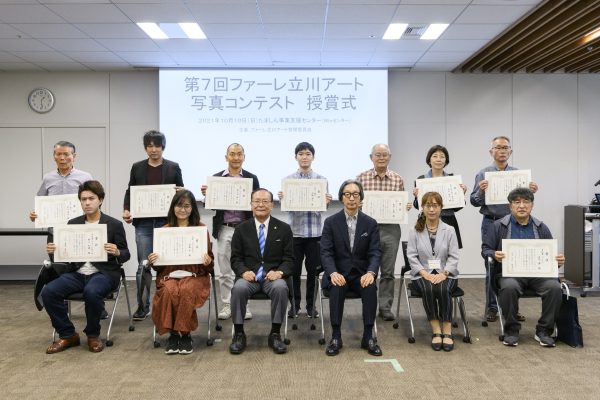 The Faret Tachikawa Art Photo Contest will be held again next year.
We are looking forward to receiving many applications.
*************************************************
The annual Museum Day 2021 Autumn was also held on the day. This year, the event was held only on Sunday, but it included an exhibition of the sister city of Omachi, Nagano Prefecture, at the Women's Center Aim. a photo contest exhibition, an art market at Sun Sun Road, and a talk event called "Art Juku" at the Tamashin Business Support Center (Win Center) at the head office of the Tama Shinkin Bank in the Green Springs area.
In addition, since this year, we have started an art tour in which you can tour selected works only in English.