Crowdfunding is underway!
The Faret Tachikawa Art Revitalization Executive Committee is a crowdfunding site for the restoration of art "Tessera (Tesera) -4".「READYFOR?」is implementing a project called "Building a Culture Town with Everyone. I want to bring back the brilliance of Tachikawa art!".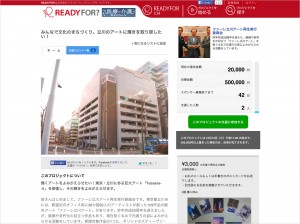 「READYFOR?」Click here for the internal release page.
The target is 500,000 yen. I was told by my acquaintance.Facebook page "Faret Tachikawa Art"I would appreciate it if you could press the "Great!" button.
Thank you for your cooperation.
Tessera (Tesera) -4