Faret Tachikawa Art Museum Day 2021 Spring (some events were canceled)
Saturday, March 6 (Exhibition: 2(Tue) – 7(Sun)) 
The mysterious outdoor plays "Alice in the Country of Farre " and" Art Market " will not be held because they are under a state of emergency due to the novel coronavirus infection (until Sunday, March 7).
We deeply apologize to those who were looking forward to it.
Thank you for your understanding.
Both events will be held on Faret Tachikawa Art Museum Day 2021 Autumn in October 2021.
With 109 pieces of public art by 92 artists from 36 countries around the world, the "Faret Tachikawa" block at the north exit of Tachikawa Station will be used as an art museum and various programs will be developed. We hope you will come to Faret Tachikawa, the city of public art that Tachikawa is proud of.
Sponsored by the Faret Tachikawa Art Management Committee.
*Due to the response to the novel coronavirus infection (COVID-19), the event may be changed or canceled. We will provide the latest information on our website and FB, so please check it.

■Report Exhibition of "Elementary School Faret Tachikawa Art Viewing Class"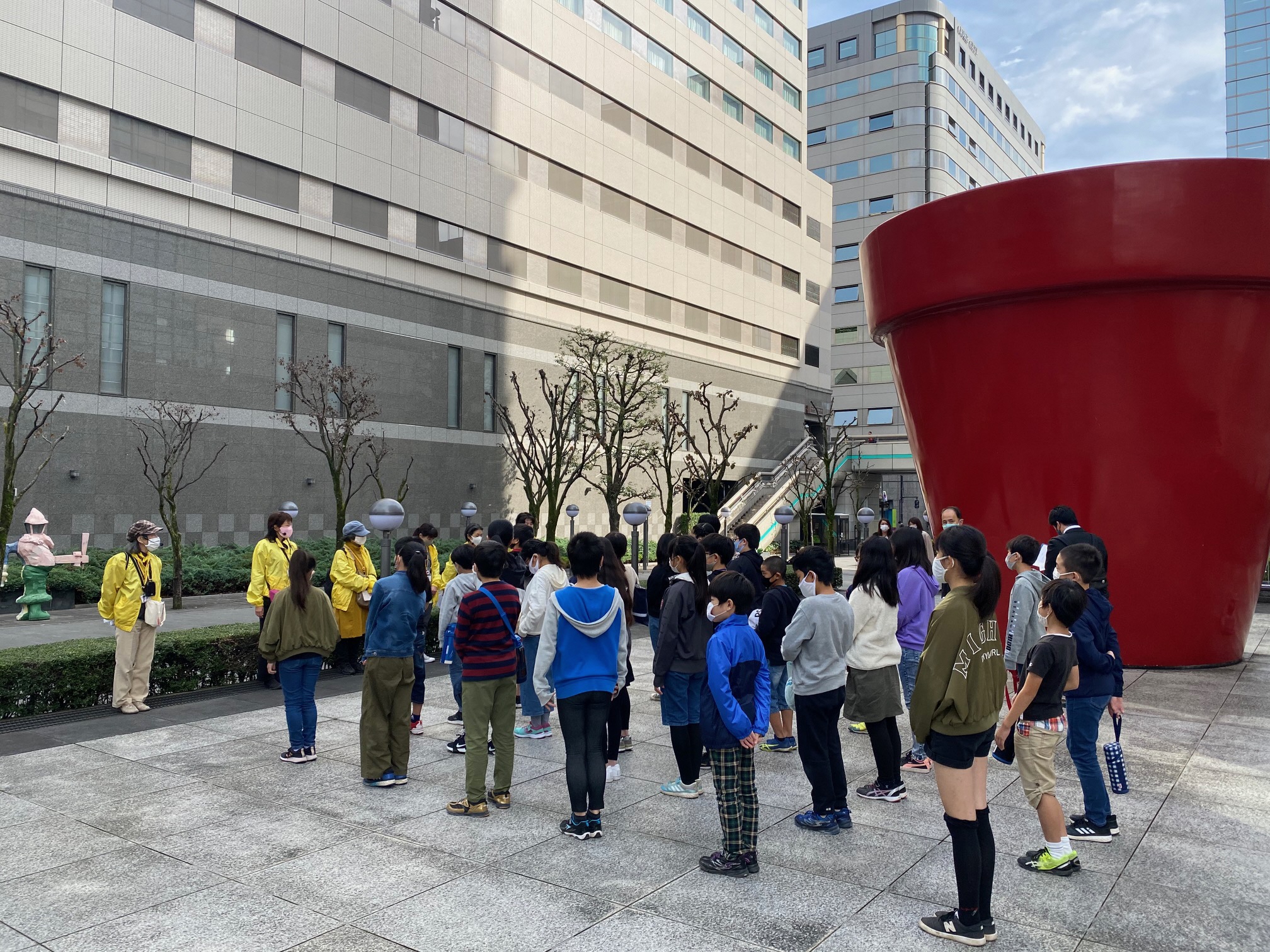 The "Elementary School Faret Tachikawa Art Appreciation Class" is held as a part of the art class at Tachikawa Municipal Elementary School. After the field trip, we will exhibit the works made by children as a post-study.
Date:March 2(Tur) ~ 7(Sun) 9: 00 ~ 17: 00
Place:Women's Center, Aime 1st Floor Gallery
*Please note that we close at 17 o'clock.
■Collaboration Sweets
For a limited time only, hotels and cafes in the vicinity of Faret Tachikawa will sell collaborative menus inspired by Faret Tachikawa Art.

○museum art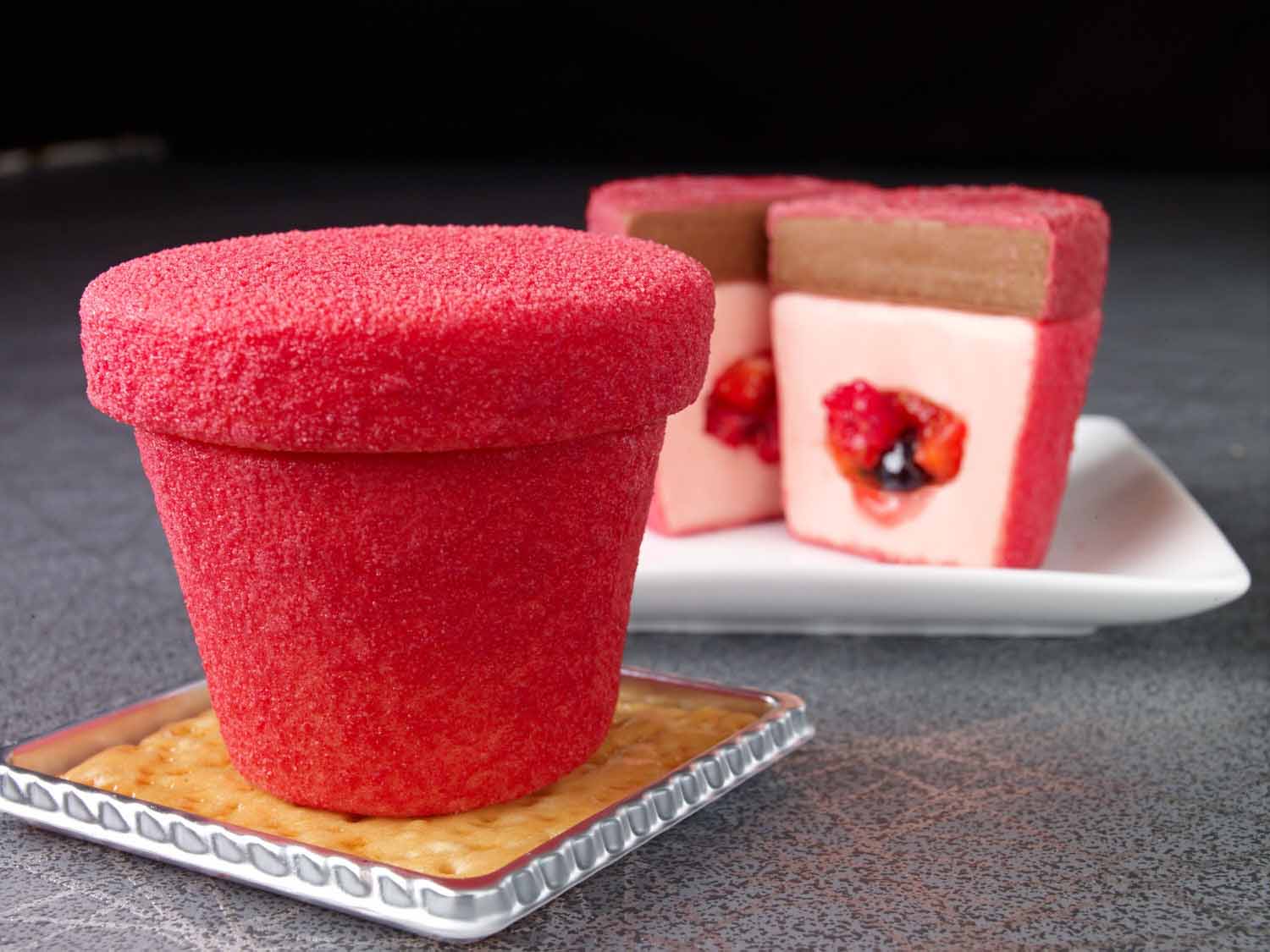 Palace Hotel Tachikawa (Akebono-cho 2 -40 -15)
"Museum Art" is a cake with a motif of Tachikawa Faré art. It will be sold at the Salon Do Cafe on the first floor of the Palace Hotel Tachikawa.
Price:¥540 (tax included)
Sales period:3/1 (Mon) ~ 31 (Wed)
---
○faret chocolate pie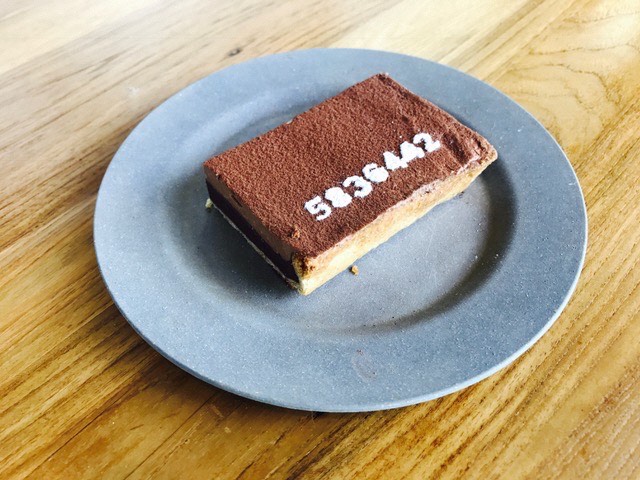 Adamsuo Sam Pie (Midori-cho 4 -5 Kotobukiya Building 2nd Floor)
The number on the chocolate pie is based on Jonathan Borovsky's "The Man With a Briefcase."
Price:¥480 (tax included)
Sales period:3/1 (Mon) to 14 (Sun)
■Art Tour "Select Tour"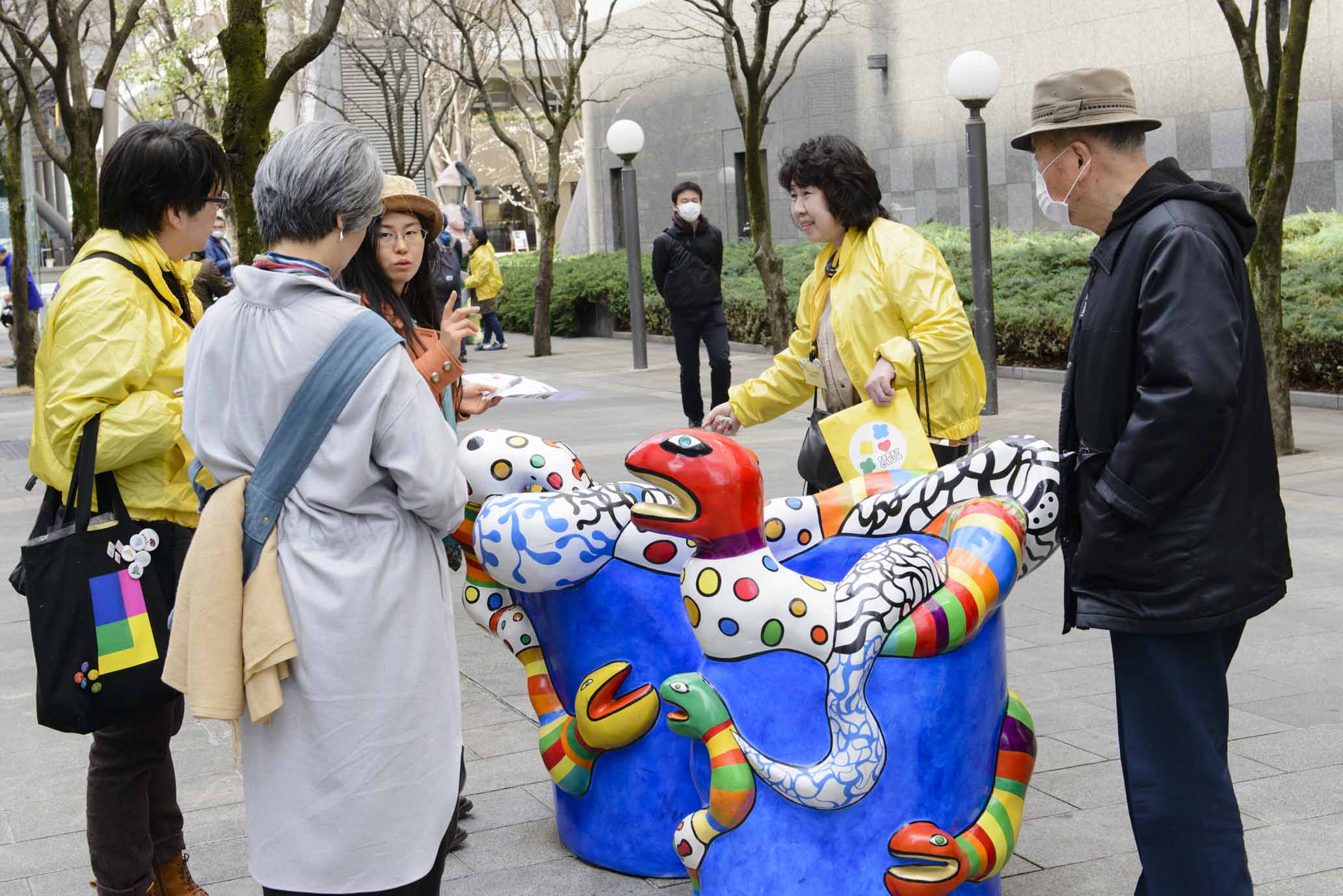 This is an art guided tour where the "Faret Club," a volunteer group that is familiar with Faret Tachikawa Art, introduces selected works in about 40 minutes. You can listen to episodes of various works and writers.
Date:March 6(Sat) (1) 10: 00 ~ (2) 14: 00 ~ (about 40 minutes)
Gathering place:Tachikawa Shimaya S.C. North side red flowerpot area
Capacity:20 people (in order of application) * 1 group of about 5 people

Application:By Friday, February 26 [Required], write your desired date and time, name, and phone number, and send it by mail, fax, or e-mail to the office of the Faret Tachikawa Art Administration Committee at the following address:
■[Event canceled]Tachikawa Theater Project of "Alice in the Land of Faret"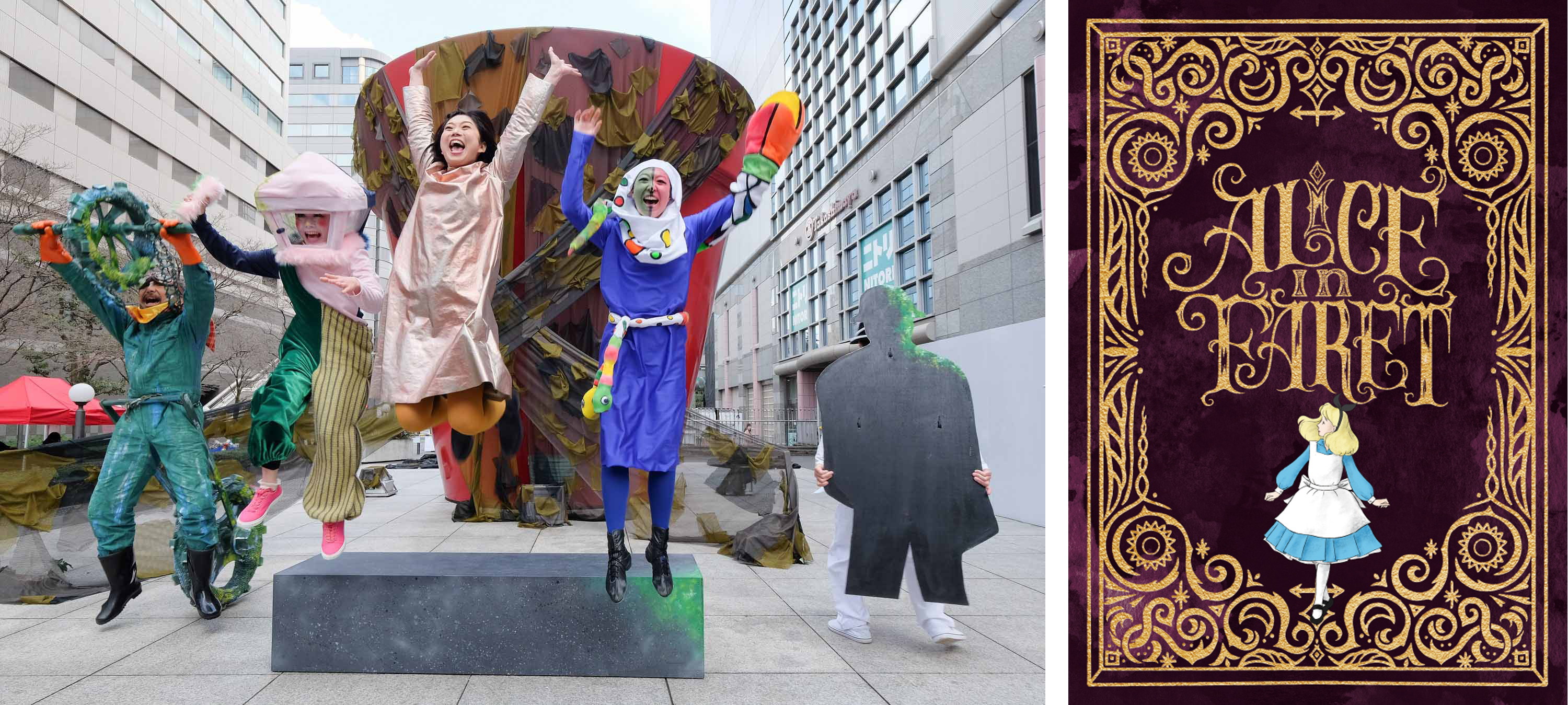 Let's find the "charm of liberation" to help Alice trapped by the Wizard! It's an interactive theater where you can solve riddles and walk around the town. Conducted in collaboration with the Tachikawa Theater Project.
Screenplay and direction: Yasushi KURASAKO (Theatre Ort)
Line-up: Iwakura Maya, Otani Masashi (Theatre Ort), Kitani Mien, Shimizu Iruka (salmon spare), Hayashi Shuichi (Karendance)
Voice cast: TAIRA no Sakiko (Theatre Ort)
Costume: Nozomi INOUE
Prop: Manami HASEGAWA
Text and Pictures: Shin Uchino (Muunbase)
Planning and Production: Tachikawa Sozo-sha (HP)
Host: Tachikawa Theater Project Executive Committee (Tachikawa City, Tachikawa Local Culture Promotion Foundation, Art Network Japan)
Sponsor: Kyoritsu Co., Ltd.

■[Event canceled]Art Market
Craft art and goods markets have opened around Sunsun Road.

■Faret Tachikawa Access
It is directly connected by a pedestrian deck from the north exit of JR Tachikawa Station and Tachikawa-kita Station of Tama Monorail. A 3-minute walk from the north exit of Tachikawa Station and a 2-minute walk from Tachikawa-kita Station.
■Host and Contact Information
Faret Tachikawa Art Management Committee
Secretariat: Regional Culture Section, Industrial Culture and Sports Department, Tachikawa City
Tamashin RISURU Hall (Tachikawa City civic hall) 2nd floor, 3 -3 -20 Nishiki-cho, Tachikawa 190 – 0022
TEL:042-523-2111,extension 4501
FAX:042-525-6581
e-mail:chiikibunka-t@city.tachikawa.lg.jp
Homepage:https://www.faretart.jp/
Facebook  :https://www.facebook.com/faretart/
Twitter@faretart : https://twitter.com/faretart/
Instagram : https://instagram.com/farettachikawaart/

■Request for visitors
In order to prevent the spread of new coronavirus, we ask for the following cooperation when you visit the venue.
Please refrain from visiting if you have symptoms such as fever, cough or sore throat.
When entering the Women's General Center/Aim, if you do not take your temperature at home, please do so at the reception.
Please wear a mask to prevent splashes from spreading. Also, please cooperate with cough etiquette.
○ Please disinfect your fingers with disinfectant.
○ Please secure the personal distance (At least 1 meter, preferably 2 meters) of front and back, right and left.
○ Please refrain from staying in the gallery for a long time.